Joan Snyder: Rosebuds & Rivers
Exhibition catalog, essays by Craig Burnett and Rhonda Lieberman, and artist interview with Mary Schneider-Enriquez. Edited by Rowena Chiu. Blain|Southern Gallery, 2019.
Exhibition catalogue, essay by Joan Snyder, Franklin Parrasch Gallery, NYC, 2015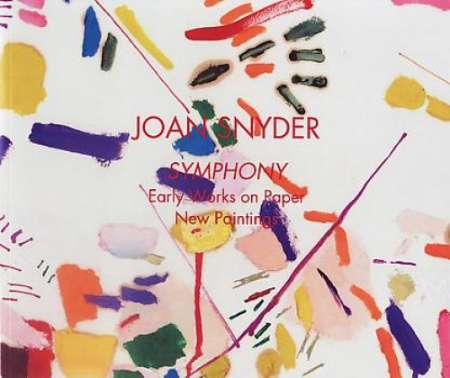 Joan Snyder: Symphony: Early works on Paper New Paintings
Exhibition catalogue, artist diary entries, Gering & Lopez, NYC, 2013.
Dancing with the Dark: Joan Snyder Prints
1963-2010
Monograph with essays by Marilyn Symmes and Faye Hirsch, published by Zimmerli Art Museum at Rutgers University with Delmonico Books / Prestel to accompany the touring retrospective of Joan Snyder Prints, 2011
Joan Snyder: A Year in the Painting Life
Exhibition catalogue, "A Year in the Painting Life", Betty Cuningham Gallery, NYC, 2010
Joan Snyder ... and seeking the sublime
Exhibition catalogue , "... and seeking the sublime", essay by Klaus Ottmann, Nielsen Gallery, Boston, 2008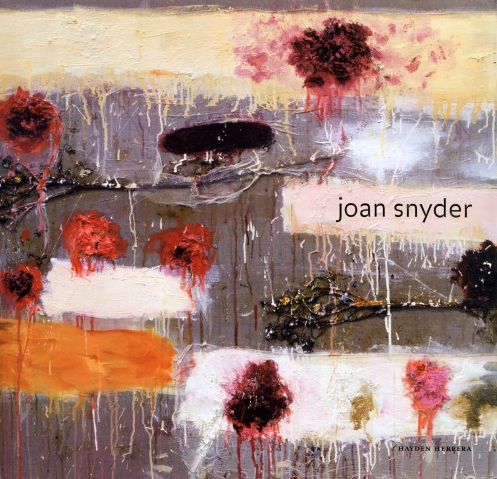 Monograph by Hayden Herrera; with an essay by Jenni Sorkin; introduction by Norman L. Kleeblatt, Published by Harry N. Abrams, Inc., 2005
Joan Snyder: Women Make Lists
Exhibition catalogue for "Women Make Lists" essay by Regina Coppola, Betty Cunningham Gallery, NYC, 2004
Joan Snyder: Works on Paper: 1970s and Recent
Exhibition catalogue, essay by Jenni Sorkin, Alexandre Gallery, NYC, 2004
Exhibition catalogue, essay by Joan Snyder, Nielsen Gallery, Boston, 2002
Joan Snyder:
Primary Fields
Exhibition catalogue, "Primary Fields", essay by Joan Snyder, Robert Miller Gallery, NYC, 2001
Joan Snyder:
In Times of Great Disorder
Exhibition catalogue for "In Times of Great Disorder", essay by Molly Snyder-Fink, Nielsen Gallery, Boston, 2000
Joan Snyder:
Paintings and Sketches
Exhibition catalogue for "Paintings and Sketches" at Hirschl & Adler Modern, NYC, 1998
Exhibition catalogue, essay Carol Diehl, Locks Gallery, Philadelphia, 1995
Exhibition catalogue, essay by Carl Belz, Rose Art Museum, Brandeis University, MA, 1994
Joan Snyder: Works with Paper
Exhibition catalogue, essay by Sarah Anne McNear, Allentown Art Museum, PA, 1993
Exhibition catalogue, essay by Dore Ashton, Nielsen Gallery, Boston, 1991
Exhibition catalogue, essay by Molly Snyder-Fink, Hirschl & Adler Modern, NYC, 1990
Joan Snyder Collects Joan Snyder
Exhibition catalogue for "Joan Snyder Collects Joan Snyder", essay Hayden Herrera, Santa Barbara Contemporary Arts Forum, Santa Barbara, CA, 1988
Exhibition catalogue, essay Hayden Herrera, Hirschl & Adler Modern, NYC, 1988
Exhibition catalog. essay by John Baker, Hirschl & Adler Modern, NYC, 1985
Exhibition catalog, essay by Michael Walls, San Francisco Art Institute, San Francisco, CA, 1979
Joan Snyder: Seven Years of Work
Exhibition catalog, essay by Hayden Herrera, Neuberger Museum, State University of New York, Purchase, NY, 1978
Exhibition catalog, essay by Hayden Herrera, Los Angeles Institute of Contemporary Art, Century City, CA, 1976
Exhibition catalog, essay by Kenneth Baker. Institute of Contemporary Art, Boston, 1974